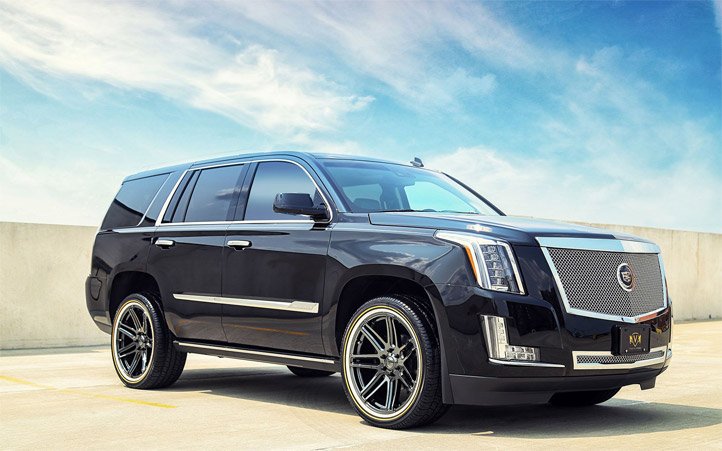 Source: VogueTyre.com
If you're not familiar with the phrase "Trues and Vogues," clearly you're not a hip-hop fan. So, what does this expression mean, and why are you reading about it on a blog about tires? More on that in a bit. But first, the big reveal.
Trues and Vogues reference the combination of luxury tires and cool wire wheels on classic cars. More specifically, wheels made by Truespoke are referred to as "Trues," and luxury tires made by Vogue Tyre & Rubber Co. are referred to as Vogues.
Hip-hop artists Macklemore and Ryan Lewis famously wrote a song about Trues and Vogues a decade ago, titled "White Walls." So what makes Trues and Vogues so cool? Let's take a look.
What are Vogues?
Vogue Tyre Company must be doing something right since it's been a leader in providing custom luxury tires for over 103 years. Not only has Vogue been around forever, but it's known for inventing the whitewall tire with its patented gold stripe design in the early 1900s. If you see tires with a yellow stripe, they're probably Vogues.
And, if you see a high-end vehicle driven by a pro athlete, celebrity, or discerning motorist, most likely it's sporting Vogue tires. And these tires aren't just stylish. They're built to deliver outstanding performance.
What type of cars sport Vogue tires?
When you think Vogue tires, think high-end classic cars like Cadillac or the impressive 1935 Duesenberg owned by Hollywood legend Clark Gable. The actor purchased his Duesenberg specifically to customize it, which included stunning whitewall tires from Vogue.
Want to take a peek at Gable's masterpiece? You can check it out here. Pretty sweet.
Gable wasn't the only star who insisted on Vogue as their tire of choice. A long list of Hollywood elite back in the day also macked out their ride with Vogue tires, including Bob Hope, Rita Hayworth, Cecil B. DeMille, Gary Cooper, and more.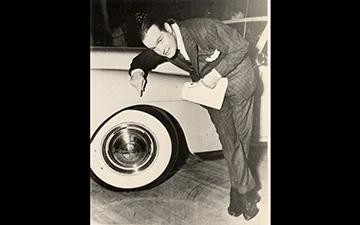 Source: Vogue Tyre Facebook
The legacy continues
The trend of customizing your ride began in the 1930s but continues today. People still love to give their vehicles a touch of personal flair to show off their style.
And it's not limited to the rich and famous anymore. People from all walks of life take pride in showing off their customized cars, and Vogue tires are still at the forefront.
Not only will everyone stare at your ride when you pass them by on the street, but you will enjoy crisp handling and excellent traction in all conditions with Vogue's Miracle Tread compound. It's the company's exclusive Voguetech Comfortride technology. They are indeed one of a kind.
What are Trues? Truespoke Wheels
Using a luxury tire with a basic wheel is like washing down Beluga caviar with a Natty Light. That's a hard pass!
That's where Truespoke wheels come into play. If you haven't guessed it by now, yes, Truespoke is the "True" part in Trues and Vogues.
The company has been around for nearly five decades. It's known for designing, engineering, and manufacturing some of the best wire wheels that money can buy.
When Truespoke entered the automotive aftermarket, they upped the wheel game. They created unique, totally original wheel designs that actually bolt onto the car. Other companies used adapters that required hammers and wrenches to attach.
Truespoke's wheels were an immediate success, and each design was patented and trademarked. The brand has a cult-like following with a customer base ranging from street drivers to elite show car owners, and its time-honored designs will never go out of style.
Trues are perfect for classic cars, hot rods, low riders, and more. When you think of rear-wheel-drive vehicles, think Truespoke. The company strives to use modern engineering while respecting tradition.
Here are just a few things that set Truespoke wire wheels apart:
Show-quality craftsmanship
Truespoke has been hand-crafting award-winning wire wheels since 1974. It builds each wheel like fine jewelry.
Unique spoke patterns
The 50-Spoke, Trueray, and Trueclassic wire wheel styles are unique to Truespoke and unavailable anywhere else.
Offers a wide range of wheels
Truespoke has more types, styles, and fitments than any other wheel creator. Made for Chrysler, Ford, GM, hot rods, low riders, and custom vehicles.
Legendary brand
Truespoke has stood out from the competition for generations. It has a stellar reputation earned on the show circuit, online, and in magazines. It's truly second to none.
So the next time you see a low rider rollin' down Rodeo, you're probably witnessing a classic example of Trues and Vogues.