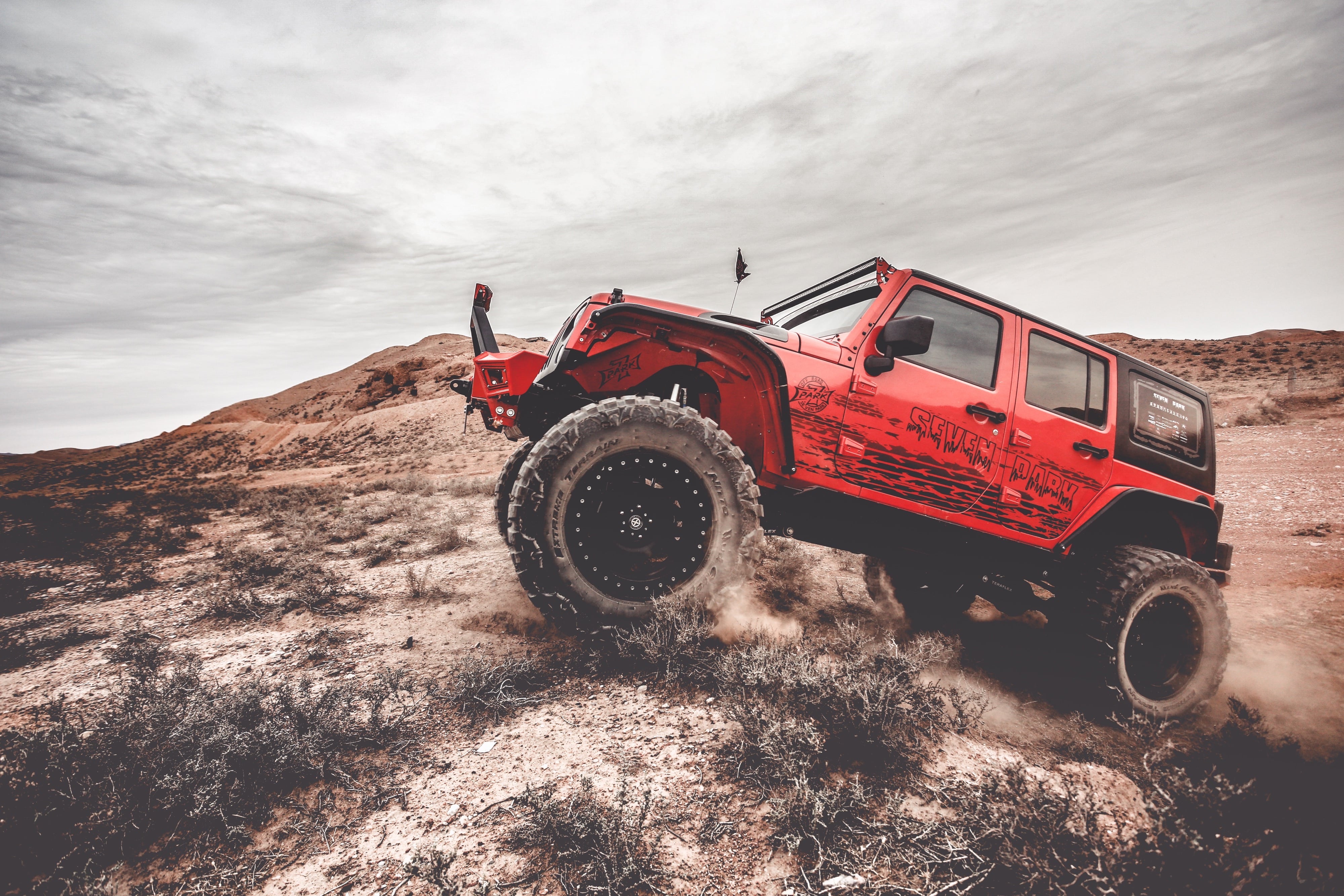 It's our superlative guide to mud terrain tires! Who is the most popular? Most attractive? Most likely to succeed? Cutest couple? Here we list our picks for the best mud terrain tires for your budget, driving style, and rugged terrain.
Although referred to as "mud-terrain," these tires handle not only mud but also snow, sand, dirt, rocks, gravel, and more. You can take your truck, SUV, Jeep, or off-road vehicle anywhere and get the traction and grip you need to keep from getting stuck and sliding. Any of the tires we list here will serve you well off-road, though some have features that outshine others.
To find mud tires for your vehicle, from any page, select "Shop By Vehicle." Set your make, model, year, and trim level. We'll find tires that match your ride. Use the Tread Type filters to narrow your search to mud terrain, on/off-road, and all-terrain.
Most Talented: Most Aggressive Mud Tires
Our most aggressive mud tire recognition goes to the Mickey Thompson Baja MTZ P3. The Baja MTZ P3 is a go-to extreme mud tire for trucks and a great many off-road enthusiasts. With its silica-reinforced tread compound, four-pitch Sidebiter pattern, self-cleaning treads, stone ejectors, and durable 3-ply construction, it is no wonder this beast is a favorite. Wet or dry, this aggressive mud tire for trucks and 4x4s will outperform and outlast your wildest adventures. Available for sizes 15-20 inches, you are certain to find one that fits your truck and makes you both unstoppable.
Tough sidewalls: Powerply 3-ply construction for long-lasting protection and better handling.
High void tread pattern and angled shoulder scallops: Keeps treads clean for better grip and improved traction.
Four-pitch Sidebiter pattern grips: Greater protection and enhanced traction.
Most Versatile: Best Mud Tires for Street
We have two honorees for mud-tire versatility: The General Grabber X3 and Nitto Ridge Grappler.
General Tire's Grabber X3 is known as a mud tire that performs well off-road but still has nice manners on the pavement. They're also among some of the longest-lasting mud tires, thanks to their sidewall ribs and stone bumpers. Mud tires aren't the quietest tires, nor are they the easiest to handle on the pavement. Grabber X3 will get you on- and off-road like a pro.
Reinforced sidewalls improve tire life
Duragen technology improves handling on- and off-road
Smooth shoulders aid in on-road comfort
For a few more dollars, you'll get an even better ride with Nitto's Ridge Grappler. These all-terrain mud tires have deep z-grooves to improve traction off-road. They have some innovative pitch treads that offer quieter rides too.
Improved traction in deep, unstable terrain
Stone ejectors remove loose gravel to improve traction
Variable pitch threads reduce road noise
Most Shy: Quietest Mud Tires

With mud terrain tires, you're bound to have some road noise. But with the Trail Grappler M/T, engineers have designed an aggressive but quiet mud tire. Compared to the Nitto Mud Grappler, Nitto has produced an off-road tire that is 34% quieter at street speed and 36% quieter at highway speeds. This is all possible due to their innovative 3D computer-simulated technology. This tire also has reinforced shoulder grooves, which increase off-road performance without compromising tread block stiffness.
Over 30% quieter than Nitto Ridge Grappler
Reinforced shoulder grooves
Lots of size options
Life of the Party: Cheapest Mud Tires
Coming in on the lower end of the price spectrum is the Firestone Destination M/T2, an upgrade from its M/T predecessor. If you're looking for an aggressive but cheap mud tire recommendation, look at Firestone's Destinations.
Solid grip on slick surfaces
Continuous steel band improves handling
Affordable mud tires that won't break your budget
Most Friendly: Best Tire for Mud and Snow
Billed as an entry-level mud tire, the Ironman All Country M/T has 3-ply construction to protect from sidewall punctures and ruptures. Rugged and stiff shoulder blocks offer improved off-road traction and efficiently evacuate debris while confidently gripping terrain.
Budget mud tire
Optional studs for ice and packed snow grip
If you've got a little more budget and really want excellence in your mud-terrain tire in snow and mud, then look at the Toyo Open Country M/T. Scalloped shoulder blocks improve traction in softer terrain, while deep sipes aid in wet grip. This is a strong tire with "attack" tread — aggressive blocks for off-road traction.
High-quality aggressive mud and snow tire
Handles well in wet conditions too
Aggressive blocks offer superior off-road traction
Best Dressed: Best Looking Mud Tire
Not only is Atturo Trail Blade M/T a rugged tire for mountain and mud terrain, but it's looks great on your vehicle. Atturo tires are known for their aggressive looks and mid-range price tags. With the Trail Blade M/T, you get a high quality mud terrain tire without breaking the bank. Staggered shoulder blocks provide lateral grip on soft surfaces, and the aggressive sidewall tread blocks give deep gouging traction. As an affordable option that really performs, this mud tire has proved itself as a winner in short-court course off-road racing!
Extra-deep treads for off-road handling
Staggered shoulder blocks for soft surfaces
Decreased road noise
Most Likely to Succeed: Longest Lasting Mud Tires
While any of the mud tires listed on this page could be included in our Most Likely to Succeed superlative, we're tipping our hats to the Milestar Patagonia M/T. It's also among the cheapest mud tires for trucks and 4x4s.
3-ply sidewalls add strength and stability on a variety of terrains
High void treads help the tires self-clean to provide better traction
Stone ejectors protect the tire from punctures
Of course, any mud terrain tire is at the mercy of its vehicle and driver. Although they're designed to take a beating, last only as long as you follow good tire-care practices.
Most Athletic: Best Mud Bogging Tire
Last but not least, is our best bug-bogging tire, the BF Goodrich Mud-Terrain T/A KM3.
The BF Goodrich Mud-Terrain T/A KM3 tire is designed to grant endless opportunities for both full-size and lifted off-road trucks with 17-inch rims. Able to be driven in wet, muddy, snowy, and dry conditions, this tire commands respect with its krawler design, which enhances its performance off-road and on. Without the right tires, tackling the mud is hard. As is taking on shifting sands, gritty slush, slippery ice, loose gravel, or unpacked soil. Now, you can tackle all that and more, because this tire features deep durable treads that keep the tires clear of debris for unhindered ground contact. That allows you to maintain traction and stability even on the roughest terrains. Although it can be driven on road, given its rugged design, you will experience decreased handling and response and more road noise. However, that is a small price to pay for being able to drive anywhere without the need for a tow.
Impervious to cuts and tears from off-road obstacles
Linear flex zones grab off-road obstacles
Low road noise for relatively quieter driving and eliminates the need for a tow rig
Shop for New Mud Tires Online
Tire Agent has a wide selection of mud tires for sale for the toughest trucks and most challenging terrains. We offer fast and free shipping and, if budget is a concern, we offer a number of easy payment plans.
If you need more information on purchasing these tires or have any questions about affordable payment plan options, including our No Money Down Tire Payment Plans, please don't hesitate to reach out! We want to help get you off-roading as soon as possible!